19-year-old Celeste Burgess cries in despair.
Next to her stands a mustachioed man in a Nebraska police uniform, who will lead her to a prison cell.
The young woman was sentenced to three months in prison after having an abortion with pills late in her pregnancy. Her mother, 42-year-old Jessica Burgess, is also charged with the crime and could face up to five years in prison for helping her daughter, as well as concealing evidence and lying to authorities.
The issue has divided the United States, as the struggle over abortion rights has escalated in recent years.
Conservative opponents of abortion He points out that Burgess was not convicted of violating Nebraska's strict abortion ban, but of terminating her pregnancy too late, at 29 weeks, long after it was legal anywhere in the United States.
But the fact that pregnant women are being forced to take increasingly extreme measures to get abortions is a direct consequence of the wave of abortion bans that have been implemented in about 20 states in the USA since 2010, when a wave of anti-abortion opponents entered Congress and state governments mobilized by right-wing populists, the so-called Tea Party movement.
Since then, hundreds of abortion clinics have closed across the United States, while several states have attempted or succeeded in temporarily banning the abortion pill, the most common form of abortion in the United States.
Last summer, the US Supreme Court also overturned the landmark Roe v. Wade decision, which had protected abortion rights for half a century. Since then, hundreds of new abortion restrictions have been enacted in more than 20 states. Abortion is prohibited in 13 states.
The more difficult it is for young women to access safe and free abortions, the more likely it is that we will see more tragedies like this across the United States.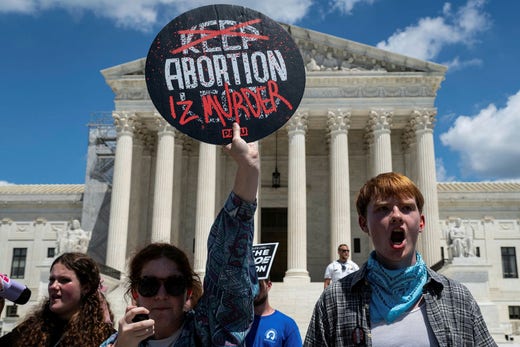 The case against Burgess Begun shortly before the HD ruling on the right to abortion, the case was also used during Supreme Court hearings by abortion right advocates, who saw the tragic case as a warning sign that similar extreme measures might become more common as abortion bans spread across the country;
In Nebraska, the conservative state government earlier this year attempted to implement an abortion ban starting at 6 weeks of gestation, but later passed a law banning abortions after 12 weeks, which also drew heavy criticism from abortion rights activists and human rights groups in the state.
Greer Donnelly, The United States will face more similar tragedies as abortion laws become more restrictive in conservative states, the University of Pittsburgh legal scholar told The New York Times on Friday.
– This is a really sad state of affairs because people are forced to make decisions like this when they are really desperate. What makes them desperate is the ban on abortion, says Donnelly.
The issue also raises Questions about user privacy on the digital platforms that the majority of Americans use daily to connect with their loved ones. Prosecution evidence came from Facebook private messages between a mother and her daughter, to which Facebook parent company Meta has given authorities access.
Since the overturning ruling in Roe v. Wade last year, Meta has said it will work with US authorities to search for evidence against women who violated conservative states' new, often extreme abortion laws.
"Falls down a lot. Internet fanatic. Proud analyst. Creator. Wannabe music lover. Introvert. Tv aficionado."