Sunday night continued to evacuate an estimated 30,000 residents and tourists. For the tour company Ving, about 50 Swedes have been relocated from the holiday resorts of Kiotari, Lardos and Lindos to the northern parts of the island.
– They are absorbed In everything from hotels to schools, where we simply had the chance. We're in contact with the local authorities for status updates on the fire, which doesn't seem to be causing any further problems so far, and the most important thing is safety anyway, says Anna Hagberg, Ving's press informant.
A forest fire also broke out on Sunday evening on the island of Corfu, located in the west of the Greek mainland. A number of villages on the northern side of the island have been evacuated. Anne Mörk-Löwengreen, press contact at the travel company Tui, was contacted with the information.
– None of our guests are affected. It's a limited forest fire, much smaller than the Rhodes fires, and we're of course following the situation closely, she says.
Travel agency Apollo has 305 Nordic guests in Corfu, of whom 47 are Swedes.
– We do not have hotels on the northern side of the island so our guests will not be affected, says Martina Krantz, the company's press officer.
And the BBC wrote that winds are expected to get stronger through Monday, which risks making the work of many firefighters battling the flames even more difficult. Crete, the largest and most populous of the Greek islands, had a "very high fire risk" on Monday.
The British Foreign Office will send a crisis team to Rhodes with Red Cross officials and staff to help Britons there.
Swede Jessica Stenger came out He went to Lardos on the island of Rhodes on Tuesday for a week-long sunny holiday with girlfriend Matilda Nordstrom and her four-year-old son, but on Saturday found themselves in the crowd that had to be evacuated north. After eight hours they were taken to Ixia at the top of the island.
– Everyone was tired and hungry and there were lots of little kids so everyone was like, "Finally!" and "Oh my God, so beautiful!" , but we were not only, but a lot of buses. Then we learned there were no rooms, but everyone had to sleep on the floor, says Jessica Stinger.
Those who did not catch them Some pool pad or part of the carpet, she was allowed to sleep with only a jacket or towel between her body and the stone floor in the hotel entrance. She described the information they received as scarce, to say the least.
We haven't been informed of anything since yesterday's announcement of our evacuation. The hotel where we were placed caters to everyone, although of course there were huge queues at the restaurant, but we didn't receive anything from the tour operator, says Jessica Stinger.
– It's boiling hot here, people are lying everywhere, and it feels like there's no oxygen left. During the night, many of them had to be taken to the hospital because they collapsed.
Tour operator work He was hampered by a series of power outages and the difficulty of his employers telecommuting. It also complicated travelers' ability to notify relatives.
Getting good information was a big part of the problem. We evacuated 160 people from the Lardós area and unfortunately we did not find accommodation for everyone for the night, so some had to sleep in other hotels, but not in rooms but, for example, in reception or conference rooms, says Martina Krantz, Apollo press officer.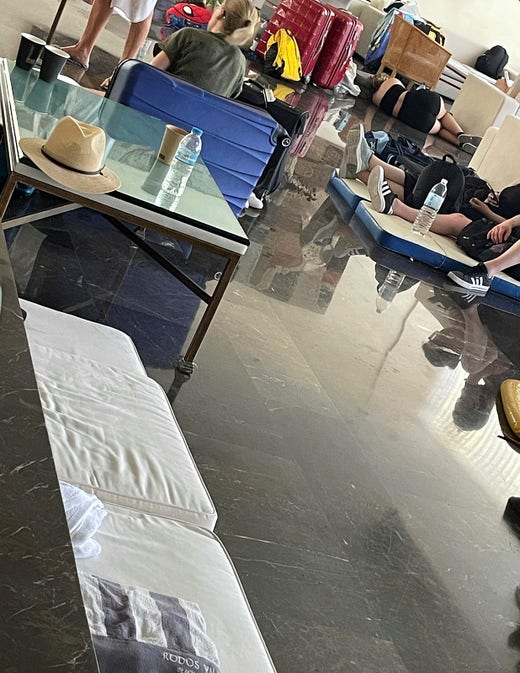 For Feng, another 1,300 passengers are expected to arrive in Rhodes on Sunday. However, Just Ving had to contact about 40 people on Saturday evening with a message that their flights to affected destinations had been cancelled.
– As it is high season, unfortunately we are not able to offer other hotels. The vast majority were understanding and grateful that we got back to you with this letter, says Anna Hagberg, and of course they got a full refund, but there are clearly those who are upset because it is never fun to receive such messages at the last minute.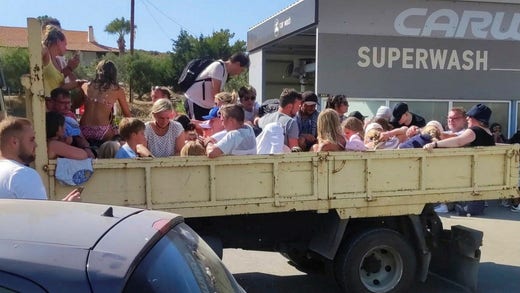 Apollo canceled flights to the Lardos area on Sunday and about 60 people were told the night before that their vacation flight would not be cancelled. The charter company also runs low-frequency trips on Tuesdays and Wednesdays, but what it will be like for Lardo passengers after that is not yet clear.
– Those whose flights have been canceled by us receive a full refund. For other affected persons, we will follow the rules of the group travel law and will take a closer look at it shortly, but for now we focus on the most urgent thing to solve it as best we can, says press officer Martina Krantz.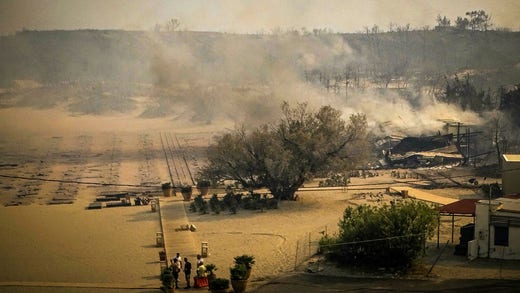 Nordic tui About 80 Swedish guests have been evacuated during the evening and night to other parts of Rhodes, says Adam Gjörky, director of communications. The tour operator has canceled all trips to Rhodes from across Europe until Tuesday.
– We do this so that we can focus on those on the island. Since we are a fairly big organizer, we hope it will save a lot of hotel rooms. We urge anyone affected by this to await information from us, as we will be looking for anyone with information on what applies.
Tui now operates empty planes, which would have gone anyway, to fly tourists home, TT reports. The tour operator is working to contact affected travelers to inform them, according to Adam Gyorky.
That's basically what it's all about Two major fires on Rhodes, one of which is near the town of Laerma is the biggest problem for tourists on the southeastern coast of Rhodes. 250 rescue workers and 15 aircraft are involved in the firefighting work on three fronts, as well as an unknown number of volunteers, according to state broadcaster ERT.
It was reported that the Greek Ministry of Foreign Affairs has set up a temporary office to facilitate the exit of tourists who have lost their travel documents. Swedish Ministry of Foreign Affairs Refers to guide lines From its greek counterpart and has a general recommendation for swedes in greece to enroll in the so-called Swedish list.
Fires have been raging in Rhodes since Tuesday, with many buildings completely or partially destroyed. The focus of the rescue effort is on erecting barriers to prevent further destruction of this type and the spread of the fire to the denser forested areas.
Read more: Swedish travelers evacuated on the Greek island of Rhodes
"Falls down a lot. Internet fanatic. Proud analyst. Creator. Wannabe music lover. Introvert. Tv aficionado."