When Alexei Navalny turned 47 last week, a handful of his supporters ventured onto the streets of Moscow and other cities. It wasn't about any big protest marches, it was about individual signs. However, the police cracked down mercilessly.
A young woman was arrested for it I walked around with a balloon that said "Happy Birthday" Another was dragged away as she was holding an A4 sheet of paper with "You are not alone" written on it.
This is considered "extremism" in Russia today. And this is exactly what Navalny is accused of in the trial, which began on Monday, in particular on charges of "creating an extremist network" and "justifying Nazi ideology".
The leader of the opposition already has it He has served two years of his current sentence of nine years in prison. Several contracts are now likely to be extended.
Unlike previous trials, this one took place not in Moscow, but in the prison colony 20 miles east where Navalny is imprisoned. Journalists are not allowed to attend.
– We assume that the trial will proceed relatively quickly, and that Aleksegg will be sentenced to 30 years in prison, his spokesman Kira Jarmusch tells Deutsche Welle.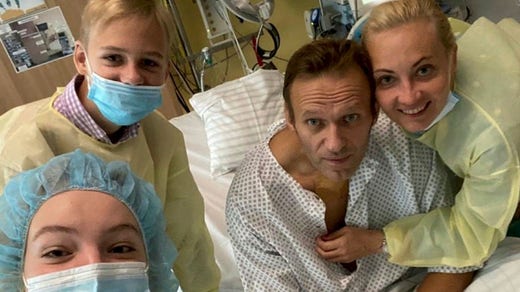 Previous rulings against Navalny have dealt with things like embezzlement and contempt of court. This will be the first trial in which his political activism is the center.
– In the past, the Kremlin used to say: "He's just a scammer, he stole the whole forest, all the donations, he's just a thief." But the new case is purely political, he is simply being prosecuted for his policies, which the Kremlin has retroactively condemned as extremist since 2011, says Navalny's aide Leonid Volkov.
Alexey Navalny chose himself Back in Russia in 2021, having been treated in Germany for a toxic attack he suffered on a trip in Siberia the previous year. According to him, the attack – with novichok radioactive materials – was carried out by the Russian security service FSB, which was also confirmed by the Bellingcat network of journalists.
He was arrested upon his arrival in Moscow and has been locked up ever since.
On the same day that the new indictment was published, the European Court of Justice in Strasbourg decided that the Russian state must pay 40,000 euros in damages to Navalny, among other things because the poisoning had not been properly investigated.
Imprisoned since 2021
Alexey Navalny is a prominent opposition politician in Russia. He has been imprisoned in a criminal colony east of Moscow since February 2021, and has been convicted of, among other things, contempt of court and alleged fraud.
Navalny is a trained lawyer and entered domestic politics in Moscow in the early 2000s. But above all, he made a name for himself as an uncoverer of corruption within state-controlled companies.
During the large protests against the Putin regime in 2011-2012, he became one of the most prominent names. He ran for mayor in Moscow in 2013, but lost 27 percent to Putin loyalist Sergei Sobyanin, 51.
A few years later, he registered as a candidate for the 2018 presidential election, but was barred from participating due to a conviction for embezzlement – according to him, politically motivated.
By 2020, Navalny had built an organization with followers across Russia. During a trip to Siberia, he was poisoned with Novichok – which only the Russian state has access to – and ended up in a coma. He was taken to Germany, where doctors managed to save his life.
Upon his return to Russia in 2021, Navalny was already arrested at the airport, and has been in detention ever since. His health deteriorated greatly after long periods in solitary confinement.
Read more:
Anna-Lena Loren: A Soviet imitation is slowly eating away at Navalny's health
"Falls down a lot. Internet fanatic. Proud analyst. Creator. Wannabe music lover. Introvert. Tv aficionado."