Azza Street, or "Gaza Street," is located in the Jerusalem district of Rehavia, a central, leafy neighborhood of low white-stone houses.
"Is this where the Prime Minister lives?" DN in English asks a woman who is busy putting up a sign on the fence.
– No, but "Minister of Crime," she says and gestures a little on the street.
Netanyahu is accused Reporting on numerous crimes, including fraud, is a frequent talking point for protesters who have staged large protests around Israel in recent months.
Today, people are especially likely to mention this fact – because early Thursday morning, a new law was being voted on in the Israeli Knesset. It makes it impossible for the Supreme Court to remove the Prime Minister of Israel, no matter what reasons it may have. Instead, from now on, three-quarters of Knesset members are required to vote for them – the only acceptable reasons being mental or physical illness.
Benjamin Netanyahu should be imprisoned! They chant slogans to a group of protesters who had already gathered on Al-Azza Street early in the morning.
Thursday and Saturday The days of protest have become permanent for Israelis over the past twelve weeks. Thursdays are marked by civil disobedience, with protesters blocking highways and airports, and this morning also the closest helipad to the prime minister – this is because he managed to get to the airport by helicopter the previous Thursday when protesters blocked all roads.
Tom and Tamar are college students, Tamar is studying literature in Jerusalem, and Tom is trying to "get his master's degree" in Tel Aviv. But studies have been suffering lately.
"It's actually become a burden—I pretend four days a week," says Tom.
He travels between different cities, different demonstrations, but today he is on his way to one organized by the Hebrew University. We see it coming when we are at the height of the Knesset. Thousands of students, teachers and parents carry Israeli flags and banners. They chant slogans rhythmically to the accompaniment of drums and trumpets and people beat everything they come across: spoons into cups and lids from pots.
"Israel is not a dictatorship!"
"We will not be silent if the law is not equal!"
Tom has scratches on his forehead and on his nose.
– I protested outside Ari Deri's house this morning at 06, and some people threw eggs at us, he explains.
– Yes, they were thrown from like the tenth floor. Tom says: It hurt a little when it exploded in my face.
Ari Deri is the leader of the party As for the ultra-Orthodox party, the Supreme Court, by ruling, removed him from a ministerial position because he had been convicted of crimes in the recent past. Part of the new government's legal reform – which all the protesters are protesting – is a law that would make it possible for Deri to be appointed minister again.
Student demonstrations dance their way through the center of Jerusalem. The protesters never stop shouting into the megaphones, and the crowd never stops responding. They cross the Knesset, go through a highway tunnel, follow the entire long Bezalel Street and make a detour into the Jewish Agency, helping Jews around the world move to Israel.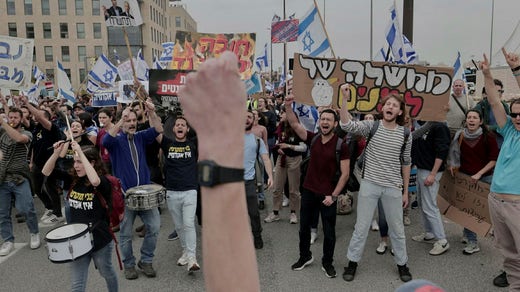 But when the demonstrators want to walk down Al-Azza Street, they stop. The police followed the train all the way, with motorcycles and riding policemen and soldiers. Now they put up a riot fence.
Israeli youth dance, sing and seem to turn around – but then they change. They force riot fence. Some of them run into the police. The police are few, and the demonstrators are many – suddenly they rush through the barricades, run towards Netanyahu's house, demolish another barricade on the way.
– Without democracy, there is no academy! the crowd shouts.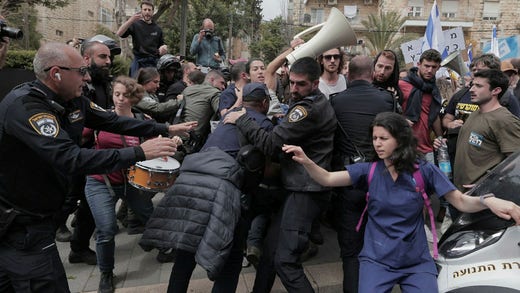 Just before the final cordon, in front of Netanyahu's inconspicuous house, the group stops by itself. They're chanting, they're jumping around, they're shouting "Democracy!"
At the signal given, they all sit down. Drums and clamor are silent. Thousands of voices join the national anthem. In Hebrew it is called "hope".
Moments later, when the crowd has dispersed, we meet Tom again. He carries a huge drum.
– I need it for the next thing we're going to do. But first we have to pass the police station. They've just arrested several of my friends, he says and hurries on.
Read more:
Here are the big bosses leading the opposition to the Israeli government's legal package
"Falls down a lot. Internet fanatic. Proud analyst. Creator. Wannabe music lover. Introvert. Tv aficionado."