If we are to deal with the climate crisis, we need an orderly and aggressive phase-out of oil and gas production. Andrea Meza, Minister of Climate and Environment of Costa Rica, said we are calling on other national and regional governments to join in and adapt their oil and gas production to the goals of the Paris Agreement.
Together with Danish Minister of Climate and Energy Dan Jorgensen, she launched the new 'Beyond Oil and Gas' coalition, BUGA (Beyond Oil and Gas). The goal is to get countries to set a deadline for fossil fuel extraction and take measures to ensure their coal, oil and gas plans are in line with the 1.5-degree target.
Sweden agreed that the fossil age is an arc in history, and it must end.
So far, ten countries and regions, including France, Quebec, Spain, Greenland, Ireland, New Zealand and Sweden, who had representatives on the site and met with applause as they took the stage, joined in.
The production gap is still large
Graphics: DN Source: Production Gap Report 2021
The launch was awesome Attention here in Glasgow. Hundreds of people lined up outside the doors and far from everyone who wanted to enter was allowed in.
Although Denmark is one of the largest oil producers in the European Union, the coalition countries do not belong to the largest oil producers in the world. It is worth noting that Norway is not involved, nor is the United Kingdom – the host country of the climate summit.
When asked if the alliance could have any significance when the major oil nations were not involved, Dan Jorgensen replied:
– We are talking with many other countries who are not here today, and I promised not to mention any names. We hope more countries will join in the coming days.
The ten largest oil producers in the world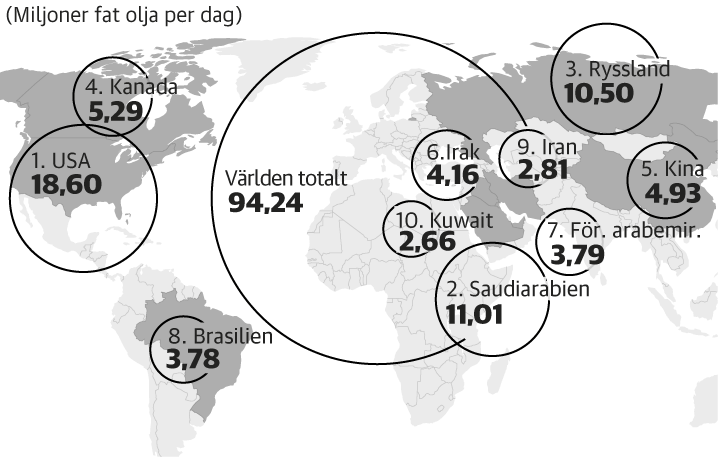 Graphics: DN Source: eia.gov
earlier Costa Rica, France, Spain and Denmark, among other countries, have set deadlines for oil and gas production. For Denmark, 2050 applies.
– It wasn't an easy decision. It is an expensive decision that affects many people which means we must invest in renewable energy such as wind, and create new jobs, says Dan Jorgensen, Minister of Climate and Energy of Denmark in connection with the presentation.
In his presentation, Minister of Environment and Climate Per Polund (MP) noted the change in law underway in Sweden, which will put an end to fossil mining. If all goes as planned, it will come into effect on July 1, 2022. He also stressed the importance of some having to take the lead.
Sweden agreed that the fossil age is an arc in history, and it must end. We have seen many times in history that for something to happen, someone has to take the lead.
Pete Erickson, a researcher at the Stockholm Environment Institute's office in Seattle, believes the new alliance could be important if it is expanded and more states join in.
– The way Boga can make an impact is by contributing to creating a new standard in international climate debates in such a way that oil and gas production should be phased out, not just coal, he says.
future production of fossil emissions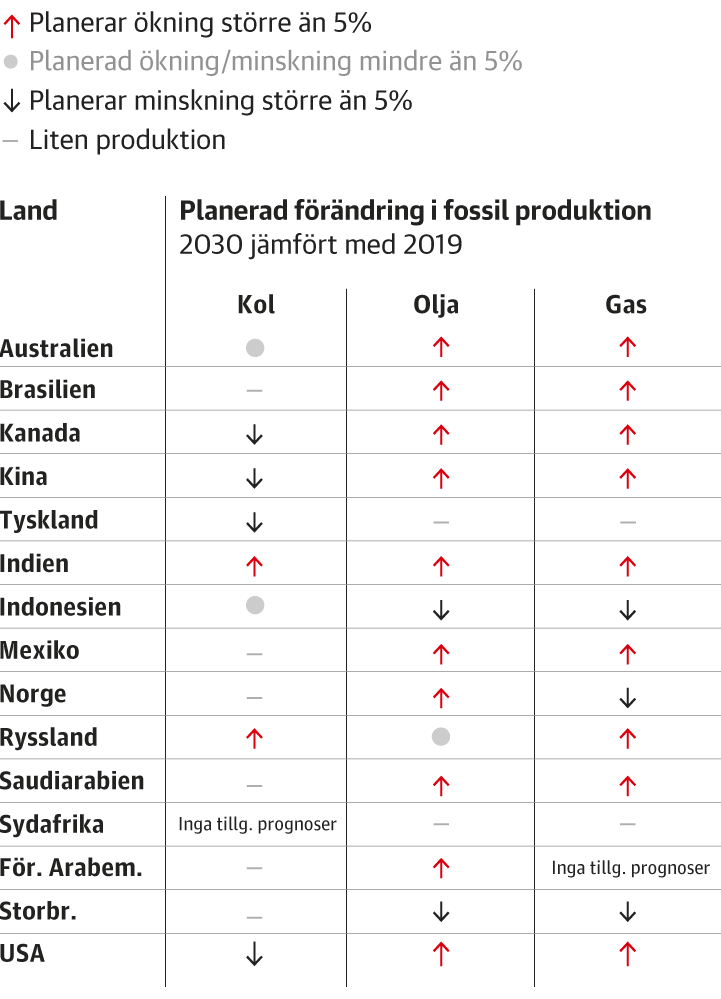 Graphics: DN Source: Production Gap Report 2021
Historically, fossil fuels It was a pressing issue at the United Nations climate summit. This is not primarily because they need to be phased out if climate goals are to be met, but mostly and mainly because the big oil nations are putting so much energy into stopping discussions about fossil fuels.
Once the word fossil is used during climate negotiations, some oil countries, usually Saudi Arabia or Iraq, interrupt by saying "a matter of order" then the discussion should be stopped. The argument is that fossil fuels are not mentioned in the agreement and therefore should not be included in the negotiations.
But the pressure to phase out fossil fuels has steadily increased. And here at COP 26 in Glasgow, there is a noticeable change now. The word "fossil" first appeared in a draft negotiating text, and is a historical word.
And another alliance With the aim of phasing out fossil fuels, a press conference was held. It's called the Fossil Fuel Disarmament Agreement, according to the same model used to make nuclear weapons. Among other things, it brings together more than one hundred thousand individuals such as parliamentarians and scholars, but also cities such as Los Angeles, Barcelona, ​​Toronto and Sydney.
Among the members are Caroline Lucas, Green Party member of the British Parliament:
Governments all over the world are tied to fossil fuels, not least Britain which is one of the worst. Over two years, they met 9 times more often with representatives of fossil fuels than with representatives of renewable fuel companies. Since the Paris Agreement, £4 billion has been spent on supporting oil and gas companies. Caroline Lucas says it's no coincidence that there is no focus on phasing out fossil fuels.
These 25 countries produce the most coal, oil and gas
Their extraction is behind 90 percent of global emissions of carbon dioxide from fossil fuels (2019).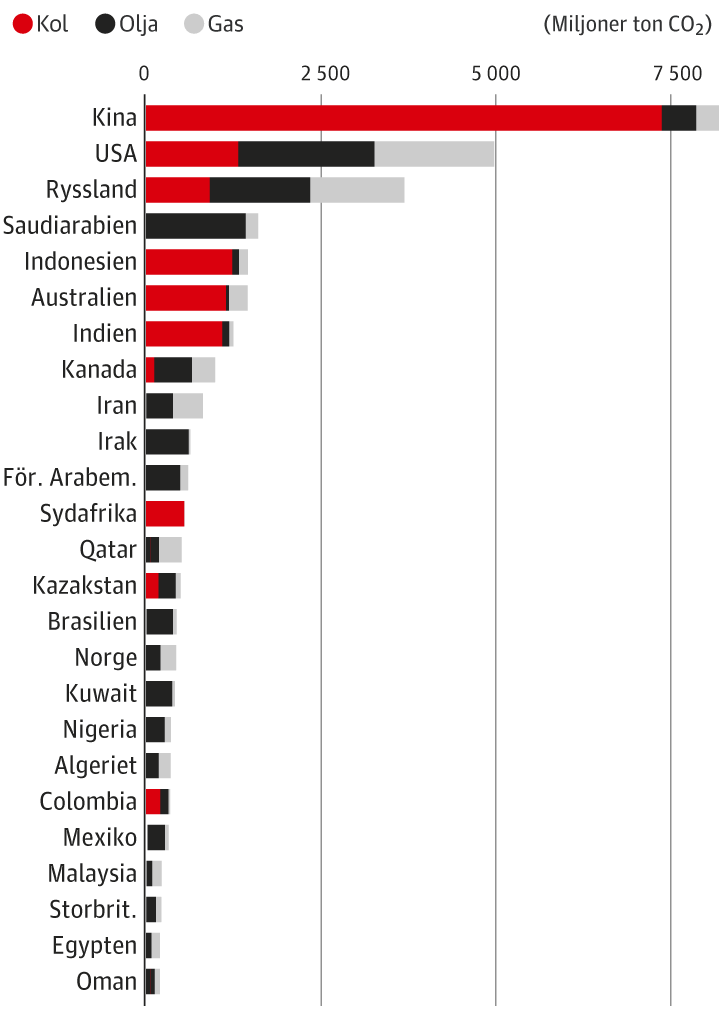 Graphics: DN Source: 2021 Production Gap Report.
Read more: DN report from the COP 26 climate meeting in Glasgow
"Falls down a lot. Internet fanatic. Proud analyst. Creator. Wannabe music lover. Introvert. Tv aficionado."