Concat AG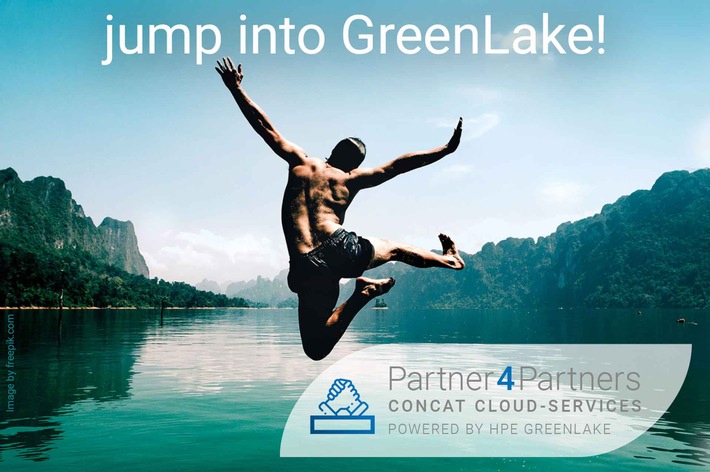 bensim
Concat AG is initiating a partner program for homes of small and medium-sized systems based on HPE GreenLake. As a basis, Concat operates its own cloud infrastructures in Frankfurt and Munich. This allows partners, as service providers, to deliver scalable IT capabilities to their customers (IT as a service) without having to own the cloud themselves.
As a platinum partner of Hewlett Packard Enterprise (HPE), Concat has relied on HPE GreenLake from the start and has executed a number of projects for clients since 2016 – both internationally and in the mid-size regional business environment. With cloud services powered by HPE GreenLake, the Bensheim-based service provider has a comprehensively scalable system and is now opening the cloud to system house partners. In this way, the partners can offer their customers the added value of the consumption model.
The Concat cloud includes different operating models, 24/7 service, the latest hardware and software, and the highest levels of security and availability. The portfolio ranges from classic hosting/housing via IaaS, SaaS or PaaS to proprietary solutions for backup, VDI or redundant geo-recovery services. Partners gain access to experts as well as Concat AG's service and support organization.
Performance based on needs and billing based on consumption
"The GreenLake-based pay-per-use offering opens up new business potential for interested system homes: you can use the Concat cloud to expand your portfolio and accompany your customers on their way to the future of IT" at Concat AG. The goal is to develop cloud business for their clients along with partners. Astrid Desman emphasizes that "System House Partners continue to comprehensively care for their customers, and we only support them in implementing the consumption model."
GreenLake Concept Advantage: The partner does not have to buy or operate their own cloud infrastructure and can boost their business using IT as a Service. Partner customers get their individual compute, storage or network capacity requirements as a service and pay for the amount used each month.
As an option, partners can offer their customers the option of setting up the HPE GreenLake infrastructure directly in the customer data center (on premises). The operation is performed by Concat or the client itself.
Stephanie Hahn, Channel and Ecosystem Sales Director for HPE GreenLake Cloud Services DACH, sees Concat as an experienced partner in Greenlake: "Over the past few years, Concat has proven that it can successfully accompany customers on their way to the GreenLake world. They have also been among the first to They have implemented the GreenLake project in many countries and were awarded the DACH As-a-Service Partner of the Year in 2020. With Concat by your side, innovative and future-oriented winning creates a win-win situation."
Concat Cloud FRA1 and MUC2 at NTT Global Data Center
Concat AG manages its own site, hosting (shared and dedicated) and IT infrastructure as a service for cloud in NTT global data centers in Frankfurt and Munich. Global formulations are possible for globally active clients. With over 65,000 square meters of data center and technical space and its own substation, the NTT Frankfurt campus is the largest single data center site in Europe and is connected to major carrier and cloud hubs as well as DE-CIX.
Media contact:
Claudia E. Petrick
Tel: +49 (6157) 9194-260
Car: +49 (172) 708 10 45
Email [email protected]
Original content from: Concat AG, transmitted by news aktuell
"Problem solver. Proud twitter specialist. Travel aficionado. Introvert. Coffee trailblazer. Professional zombie ninja. Extreme gamer."