As a NATO partner country since the 1990s, Sweden was well equipped to become a member, which means that the cost of joining is relatively low in this context.
This is according to Per Olson, a defense economist at the Comprehensive Defense Research Institute (FOI).
– We have already invested the resources that today we can receive NATO flights at our bases and that our equipment can communicate with their devices. Then other adjustments would certainly be required, for example, in the infrastructure, but they certainly could have been worse.
swears The cost of membership is in two parts, partly direct costs and partly indirect costs. The direct cost is the annual membership fee, which is based on Gross National Income (GNI) and which, among other things, funds NATO headquarters and member states' joint communications, such as that via satellite.
– According to the government, this cost will be between 600 and 700 million SEK. I think there will be more because NATO has indicated the need to increase its spending, he says and continues:
– Is it a lot of money? If you compare it to the municipal budget, it may be a very large amount, but if you compare it to today's total defense spending, it corresponds to about 0.8 percent. So in that context, those are relatively modest costs.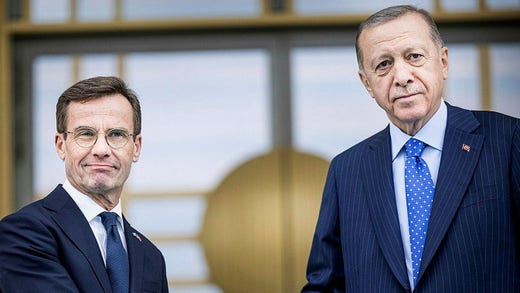 the Larger Possible Instead, the cost is NATO's requirement that each member state spend 2% of GDP on military spending each year, which, based on last year's figures, would mean a cost of about SEK 109 billion. But according to Per Olsson, this cost arose anyway, because the previous government had already indicated this increase in connection with Russia's all-out invasion of Ukraine.
Among the indirect costs are, among other things, the expenses that arise if it is necessary to suddenly send personnel to NATO headquarters in Brussels.
– It may be necessary to hire more people to cover the personnel being transferred. Then there are administrative processes that must be adapted, such as some communications equipment.
How much is the final bill? After that, Per Olsson dare not speculate.
– I cannot give any amount at the moment. You have to calculate how many people need to be employed, and what infrastructure needs to be adapted. It also depends on the scale of Sweden's ambitions. Because NATO is an intergovernmental organization, you as a country are not obligated to do anything.
The annual membership fee is already set in Sweden's defense budget, according to Per Olsson. Therefore, the Turkish "yes" does not mean any additional cost to Sweden.
The government is currently planning to add several billion more to future defense budgets. This year it is 90 billion dollars, next year 117 billion.
– Sweden planned to significantly increase defense spending, says Per Olsson.
"Falls down a lot. Internet fanatic. Proud analyst. Creator. Wannabe music lover. Introvert. Tv aficionado."