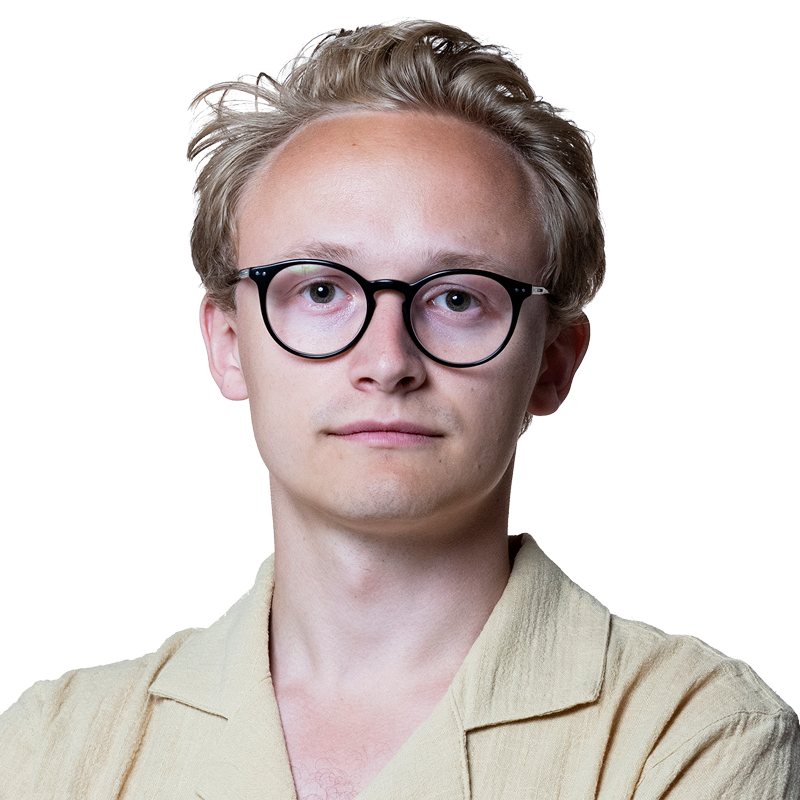 Vaccination permits and restrictions led to a new wave of protests in Europe.
Violent protests erupted in several places.
Swede Jacob and his 7-year-old son were gassed when they were eating lunch in France.
Jacob Hascolli, 30, was on vacation in early August Europe With his 7-year-old son. When they stopped in the French city of Metz for lunch, they ended up in the middle of a clash between protesters and police.
– The police fired tear gas at all the people, despite the fact that many of them had just passed and that many of them were only tourists, says Jacob Hascolli.
They ended up in the middle of the riot by mistake, and Jacob and his son tried to get out of there at the same time the police shot them with tear gas.
"I thought I should get my son out of there, it was horrible to see my son coughing and crying from the tear gas," says Jacob Hascolli.
The protesters were friendly and helpful, Jacob says, they tried to get rid of the tear gas and helped Jacob and his son move from there to a nearby square where they could wash their eyes with water. There, Jacob spoke to a protester, who said the protests were due to the country's restrictions.
– The protester said he wanted to "reclaim his freedom," according to Jacob Hascolli.
Macron: "They lost their minds"
Clashes such as those involving Jacob took place in several places in France. Washington Post He writes that, among other things, tent facilities providing coronavirus tests have been attacked and destroyed by vaccine opponents.
In France, 230,000 people took part in protests on Saturday against the reimposition of restrictions and conditions for obtaining passports for vaccinations. An initiative by the government aimed at increasing the vaccination rate. At present, about 65% of the French population has received at least one injection.
"Tens of thousands of people have lost their minds to the point where they are able to claim that we live under a dictatorship," said French President Emmanuel Macron. Wednesday About criticism that the government has bypassed these laws.
Many of the protesters are people who are generally critical of restrictions and restrictions in society that affect those who have not been vaccinated.
But among those demonstrating are also health care professionals who oppose the vaccination requirement to be allowed to work in health care. In addition to restaurant staff unhappy with the new requirement that guests must show their covid passport to be allowed to eat at a restaurant, the Washington Post wrote.
Tried to break into the BBC – the title was wrong
In London, a group of anti-vaccine protesters tried to storm the BBC building on Tuesday. The big problem was that they were at the wrong address. The group attempted to break into the old BBC building, which now houses a number of different companies, but not the BBC.
Hundreds clashed with police as they tried to storm the building. Many chanted, "Shame on you," according to The Guardian.
The protests were directed at the BBC, as protesters believe they are encouraging and promoting vaccination. A policeman was slightly injured in the attack and no one was arrested.
Anti-Semitic vaccine demonstrations in Poland
Elsewhere in Europe, similar protests erupted. Especially in countries with some type of permit for coronavirus infection where those who have not been vaccinated face more restrictions than those who have been vaccinated. In Poland, critics say the vaccine has created a separation in society.
There, thousands of people demonstrated against vaccinations and restrictions. On the streets of the Polish city of Katowice, posters with texts such as "The government is killing", "Do not touch our children" and "The epidemic is false" could be read. local media.
There, many anti-vaccine protests have been driven by nationalist and far-right groups. Earlier in July, the videos were posted Social media "Jews are behind the pandemic," the demonstrators chanted.
Right-wing extremists are taking advantage of protests in Germany
Last week, Germany witnessed a new wave of violent protests in dozens of different places across the country. The protests there are also taking place in the context of the debate over pandemic passports and the benefits of immunizing people in society.
More than 600 people were arrested last week during demonstrations against the pandemic measures in the country, and police used pepper spray and water cannons against protesters. During one protest, a journalist was beaten and kicked by protesters, according to reports Watchman.
The tone is also aggressive on social media, with vaccine critics writing things like: "The time for peaceful demonstrations is over."
It is the so-called Querdenker movement in particular that leads many of the demonstrations. It's a group that includes pandemic skeptics and vaccine opponents as well as right-wing extremists.
According to experts, the movement's radical elements have many similarities to those that stormed the Capitol in Washington, D.C., earlier this year, he writes. Washington Post.
Anger in Italy and Greece
In Italy, the vaccine passport has sparked outrage in several places. "Down with the dictatorship," protesters chanted, in reaction to the new law requiring visitors to restaurants and cinemas, for example, to show passports.
In Greece, about 4,000 people gathered at the end of July in large demonstrations. In Athens, petrol bombs were thrown at the police, who responded with tear gas.
"Falls down a lot. Internet fanatic. Proud analyst. Creator. Wannabe music lover. Introvert. Tv aficionado."