Heat waves, droughts and wildfires have ravaged Asia, Africa, Europe and North America in the past three months. It has hit economies, ecosystems, and people's health hard.
The global mean temperature for the summer season in June, July and August was 16.77 degrees. The previous record for the same period was 16.48 degrees in 2019.
– The three months we've just seen are the warmest in about 120,000 years, he says Samantha BurgessDeputy Director of Copernicus, Agence France-Presse.
Estimates that temperatures are higher than they were about 120,000 years ago are based, among other things, on analyzes of annual rings on trees and ice samples.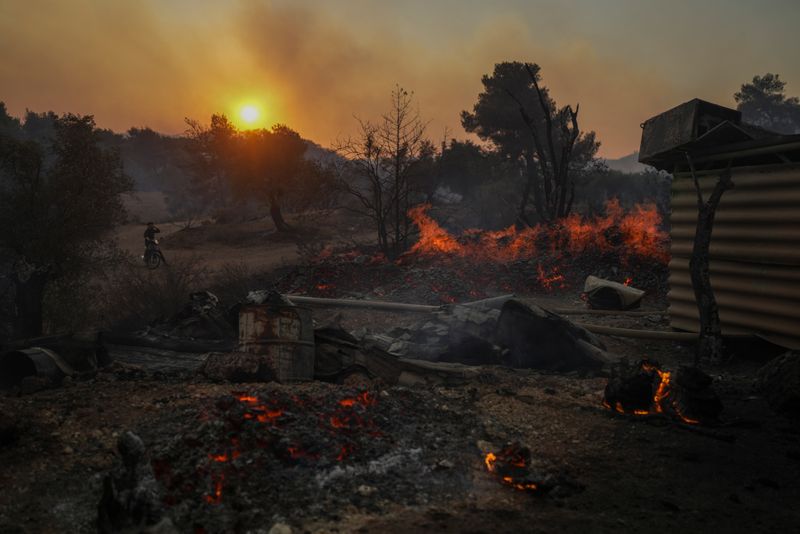 Greece was affected by many fires during the summer, and the photo was taken west of Athens in mid-July./Petros Giannakoris/AFP/TT
He warns of collapse
Not only was last month the warmest August on record, but it was also warmer than any other month except July 2023, according to the United Nations Meteorological Organization (WMO) and Copernicus.
The UN Secretary-General warns that "climate collapse has begun". Antonio Guterres And it continues:
"Scientists have long warned about what our dependence on fossil fuels will trigger. Our climate is collapsing faster than we can cope, with extreme weather events hitting every corner of the planet."
Fifth warmest
In Europe, the summer was the fifth warmest on record, with an average temperature of 19.63 degrees.
Most of Western Europe and Turkey experienced wetter-than-average summers, with record local rains leading to flooding in some areas. But northern Scandinavia was among the places that experienced drier-than-average summers.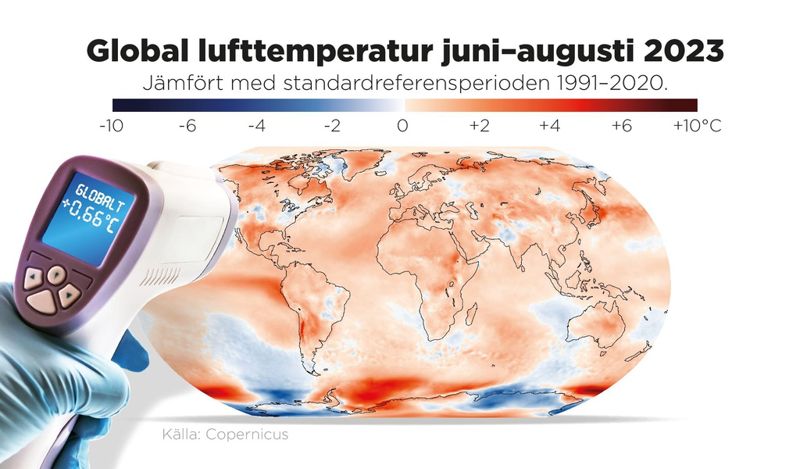 Compared to the standard reference period 1991-2020.Johan Hallnas/TT
The world's oceans have experienced unusually high temperatures since April. Global average ocean temperatures continued to rise in August, becoming the warmest month on record for surface waters.
Rising sea temperatures have contributed to higher temperatures during the summer, as marine heat waves affect the North Atlantic Ocean and the Mediterranean Sea.
– Given the extra heat we have at the surface of the oceans, 2023 is likely to be the warmest year on record, Borges told AFP.
weather phenomenon
With four months to go, 2023 is the second-hottest year on record so far, after a record-breaking 2016, according to Copernicus.
Global warming is mainly due to human emissions of greenhouse gases from burning fossil fuels such as oil, coal and gas.
But this year's record highs are also linked to the natural weather phenomenon El Niño, which has given the global average temperature an extra boost. However, researchers do not expect the most prominent effects of the El Niño phenomenon to appear until the end of the year and during 2024.
Facts | weather phenomenon
The natural phenomena El Niño and La Niña are two phases of the El Niño and Southern Oscillation (ENSO) weather cycle. El Niño warms surface waters in the eastern parts of the Pacific Ocean while La Niña cools them.
El Niño returns on average every two to seven years and usually lasts nine to twelve months.
El Niño phenomenon is associated with increased heat, drought or precipitation. The affected countries are mainly in the Pacific region, especially in Oceania, Indonesia and South America, but also parts of North America and further afield across Asia and Africa.
El Niño also causes global average temperatures to rise.
The opposite case, the La Niña phenomenon, has a cooling effect on Earth's climate.
Earlier in 2023, a multi-year La Niña episode ended. And at the beginning of last June, the US agency NOAA announced that the El Niño phenomenon had officially entered the Pacific Ocean.
Source: TT
"Falls down a lot. Internet fanatic. Proud analyst. Creator. Wannabe music lover. Introvert. Tv aficionado."