The figures that Prime Minister Rishi Sunak had feared came out on Thursday.
A total of 1.2 million emigrated last year. Net emigration (the number of people who emigrate minus the number who leave the UK) also set a new record: 606,000 people.
In the year of Brexit 2016, net immigration was 252,000.
The number of immigrants from the European Union has already decreased since Brexit, but those who immigrated from other countries at the same time increased dramatically and last year numbered 925,000.
about five It consists of people who have been granted humanitarian visas. 114,000 are refugees from Ukraine and 52,000 are from Hong Kong. The others were students, migrant workers and their relatives.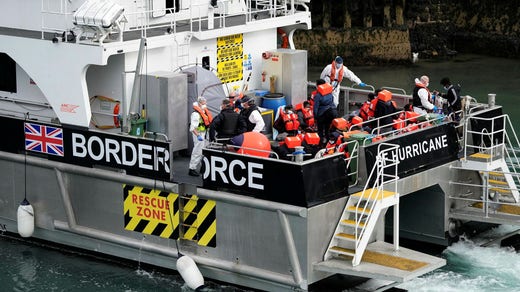 The numbers are so high, it's that simple. I want to put them down," Rishi Sunak said on ITV's Morning Couch on Thursday.
His right-wing party, the Conservatives, went to the polls in 2019 on reducing immigration. But the curve points in exactly the opposite direction.
It is sensitive for Sunak, who is well aware that opposition to immigration was an important driving force behind Brexit. New measurement methods at the British Office for National Statistics (ONS) may have helped more people register as immigrants today, but it's still hard to claim anything other than that the Tories broke their election promise.
In Great Britain it is much talked about Boat people in the English Channel – Both the Prime Minister and the controversial Home Minister Suela Braverman have promised to "stop the boats" and deport all "illegal immigrants" to Rwanda (something that has yet to happen due to numerous legal disputes).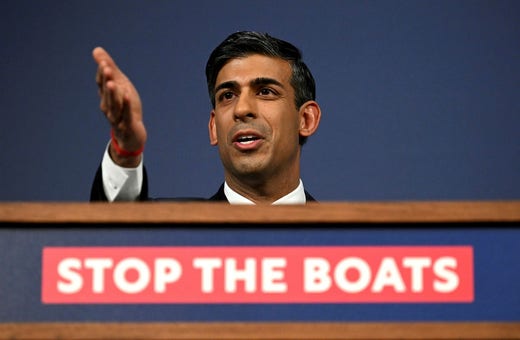 But figures from the Office for National Statistics show that the vast majority of those arriving in the country do so completely legally.
Which is not very strange.
In recent years, the unemployment rate in Great Britain has been less than five per cent and a significant underemployment in many sectors. The British NHS healthcare system would be on its knees without the thousands of foreign doctors and nurses who do vital work every day – to name a few. At the same time, foreign students are a source of income for British universities.
Opposition Labor Party He believed, however, that the government should do more than today to train the British in skilled shortage forces.
– Why not invest heavily in education? And why does the government continue the policy that makes it possible to offer an immigrant healthcare worker 20 percent less salary? This makes it more difficult to recruit local staff, says Labor's domestic policy spokeswoman, Yvette Cooper.
The Labor Party wants to reverse the disability pay cut imposed by Boris Johnson. But Rishi Sunak prefers instead to point to a new law that will make it more difficult for students to bring their relatives to the UK.
– The number of students' relatives rushed away and reached 150 thousand annually. So what we do now will have a huge impact, he promises.
"Falls down a lot. Internet fanatic. Proud analyst. Creator. Wannabe music lover. Introvert. Tv aficionado."